26 GE/Marconi defence company scientists dead
22. August, 1990
26 scientists with General Electric defence company Marconi died under suspicious circumstances between 1982 and 1990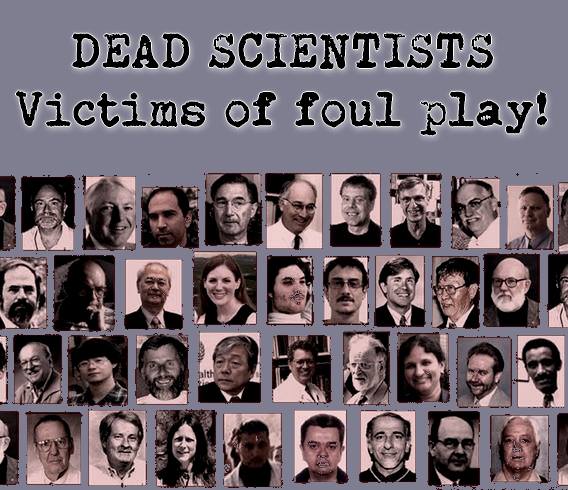 (Images are of other dead scientists, not those in this case.)
'Star Wars' and 'Death Ray,' technology also appear to be at the heart of a string of mysterious deaths back in the 1980's in England. In 1987, Shani Warren was employed as a PA at a private defence company called Marconi; the defence arm of the General Electrics Company. In the late 1980's, it was working on a classified defence contract called 'The Star Wars project', a pilot program for America's Strategic Defense Initiative.
She was discovered in less than 20 inches of water with a noose around her neck. Her hands had been tied behind her back, her mouth was gagged, and her feet were bound. She was still wearing her high heels when found. Her death was ruled to be most likely suicide by drowning, but remained as an 'open verdict,' and her inquest failed to explain how she could have tied herself up in such a way. A knot expert hired by the police claimed it was impossible that she had tied herself up.
She was discovered close to the site of another apparent suicide, David Greenhalgh, who was believed to have jumped off the bridge. He worked for the same company, and there would go on to be 25 more deaths of people associated with the company.
In fact, the young woman had been found dead exactly the same day as another strange death of a worker there and a week after another one. Two other deaths, both men involved in creating the software for the 'computerized Star Wars simulator,' and neither having displayed any desire or reason to commit suicide, first brought the issue to the fore. Vimal Dajibhai had allegedly driven more than one hundred miles to a bridge and jumped to his death, although the police report indicated that he had a puncture wound on his body that could not be accounted for. The coroner's ruling has been left open for nearly 30 years.
Police testified he'd been suffering from depression, but this was something both his family and friends refuted. Police also claimed he'd been drinking. His family and friends said he did not drink alcohol. A few months later, the police issued the statement that the 'puncture mark' was in their opinion actually a wound caused from a fragment of bone. He was found with his pants around his ankles.
Douglas Hoyle, Labour MP, said "Does anyone really commit suicide with their trousers down? A lot of these deaths just don't look like ordinary suicides." Then there was the suicide of Arshad Shariff, who had been working on the satellite technology. He had tied a length of rope around his neck, tied the other end of the rope to a tree and then got into his car and driven off, accelerating at speed. His death was ruled suicide. A communications expert, Richard Pugh, was found dead in his home with a plastic bag tied around his head. He had been tied up with rope and the rope was looped around his neck tightly, several times. His death was ruled "accidental."
Just weeks later another worker, Mark Wisner was found in the same condition. Another digital communications expert, Jonathan Walsh died from a fall out of his hotel bedroom. He had confided in close friends and family that he was in fear for his life. The coroner has left the ruling of his death as 'open.'
Alistair Beckham was a computer software designer. After driving his wife to work one afternoon, he allegedly went to his tool-shed, wound naked wires around his body and attached them to an electrical socket, then turned it on, electrocuting himself. His widow said at the time, "We don't know why he did it… if he did it. And I don't believe that he did do it."
Margaret Thatcher's government refused to have any sort of inquiry. Labour MP, Doug Hoyle, had been making requests for more than two years. "How many more deaths before we get answers?" Hoyle asked. "For security, both ourselves and the Americans should be looking into it." The Pentagon refused comment on the deaths.
When The Sunday Times Newspaper published details of 13 mysterious, sources at the American Embassy told them they were aware of at least ten more victims, adding that the Embassy had been monitoring the reports of the mysterious deaths for eighteen months. "These are not normal types of accidents and suicides," said a counter-terrorism expert from Oxford University." However, countering this opinion, a spokesman from the Ministry of Defense mocked the allegations and said "The idea that they might have been 'bumped off' is just straight out of James Bond."
Still the deaths continued; Roger Hill allegedly used a shotgun to kill himself in his family home. Three men allegedly sat in their cars in their garages and died from carbon monoxide poisoning. David Sands was said to have driven his car at speed into a wall while having gasoline canisters in the car, causing a massive explosion. Russell Smith's body was found below a cliff and deemed suicide. John Ferry was found dead in a house owned by the company. He had allegedly pulled the rubber coating from the wires of an electrical lead, placed the lead in his mouth, and turned the electricity on.
-From "UNEXPLAINED DEATHS OF THE SINISTER KIND" by David McGown
http://www.amazon.com/UNEXPLAINED-DEATHS-SINISTER-MYSTERIOUS-STORIES-ebook/dp/B00XT518RW