Dr Jeffrey Bradstreet
19. June, 2015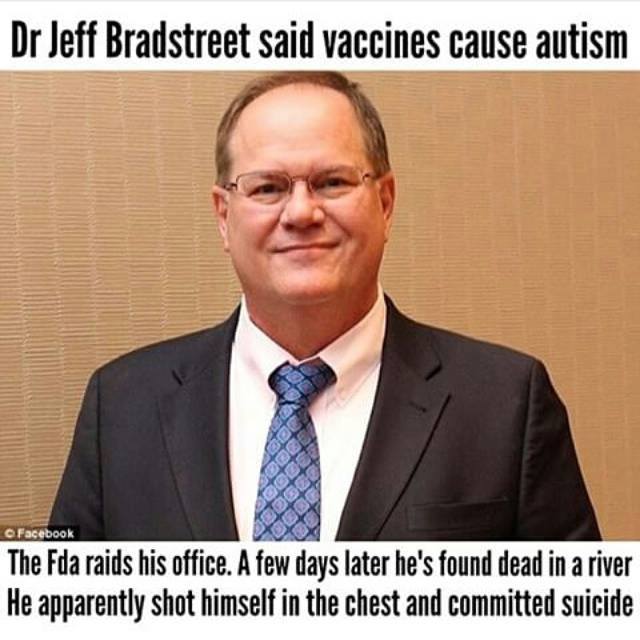 Dr Jeffrey Bradstreet has now treated over 2,000 autistic children with GcMAF and the results are well established. In 15% GcMAF makes no difference. 85% improve, if only a little, and of them 15% have their autism eradicated. In all 3,000 children have been treated with GcMAF with similar results.
And Dr Bradstreet has published a paper: "Initial Observations of Elevated Alpha-N-Acetylgalactosaminidase Activity Associated with Autism and Observed Reductions from GC Protein—Macrophage Activating Factor Injections" which is ground breaking in its discoveries.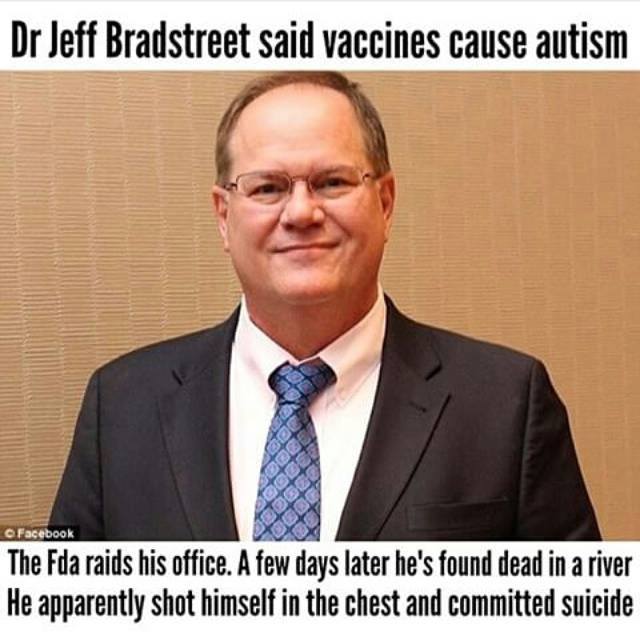 With Dr Bradstreet we ourselves published a groundbreaking paper in "Frontiers in Neurology" on the 2nd January 2014 where we identify, for the first time, the point in the human brain where autism resides.
Family cries foul over 'suicide' of anti-vaccination doctor Jeff Bradstreet and raise $20,000 to fund private investigation
Dr James Jeff Bradstreet was found dead in an apparent suicide in North Carolina on June 19, days after FDA agents searched his office
He died of what seemed to be a self-inflicted gunshot wound to chest
Found in the Rocky Broad River in Chimney Rock by a fisherman
His family are trying to launch 'an exhaustive investigation into the possibility of foul play' and have raised $20,000 on GoFund Me
Bradstreet published research based on claim vaccines cause autism
The medical community says such claims have been disproved

http://www.dailymail.co.uk/news/article-3143238/Family-cries-foul-suicide-anti-vaccination-doctor-Jeff-Bradstreet-open-community-fund-investigation.html
Autism tends to be caused by the MMR and other vaccines putting viruses and mercury into children. A shortage of lipids may contribute. Another Italian court has awarded €178,000 against the government to a family who's child contracted autism from MMR. These viruses sabotage the immune system by sending out nagalase to prevent the production of the child's GcMAF, and therefore become chronic.