Robert Edmondson
9. April, 2009
Robert Edmondson "Testified Against the Jews"
November 2, 2008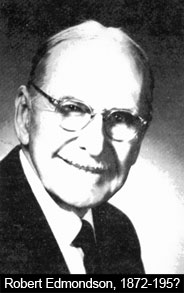 By Henry Makow Ph.D.

Our Zionist mind controllers have succeeded in eliminating almost all record of Robert Edmondson. Until today, there was no reference to him (or photo) on the Internet. Yet he was thrown into jail in 1936 and again in 1942 for producing hundreds of bulletins alerting his fellow Americans to an International conspiracy financed by the central bankers and consisting largely of Communist Jews. This conspiracy has grown into the New World Order.
A measure of Zionist subversion is when a nation's defenders are defamed and forgotten, while its traitors are rewarded and honored. Other 1930's patriots tarred as "anti-Semites" include Charles Lindbergh. Henry Ford, Charles Coughlin, Elizabeth Dillling, William Pelley, Louis McFadden and Huey Long.
Their fate proves that despite what Americans think, the US is a colony of the London-based Masonic Jewish central banking cartel and its leaders are traitors. Americans haven't been "free" for a very long time.
In 1936, Edmondson was charged with "libeling the Jewish people." In his defense, he wrote, "I am not against Jews because of their religion, as a race, a people or as individuals, but because Jewish leadership [i.e. the bankers] is actively anti-American, is attempting to jettison the American political philosophy and take over the Country, and that I would continue to be anti-Jewish until Jewry repudiated such subversion. Were the offender any other than the Jewish minority, my attitude would be precisely the same. This problem is the biggest and most acute thing in the world today….
"Knowing that pitiless publicity is the only cure for public evils, in 1934 I started on a campaign to expose Jewish Anti-Americanism and Talmudic Communism which has been called the "Code of Hell": a "Rabbi Racket" that victimizes its own followers; an international "Satanic System" subverting France, Britain, Germany and Russia, causing the present depression and moving to take over the United States through the Jewish Radical administration [of FDR.] " (p.69)
Faced with exposure, organized Jewry backed down. Edmondson subpoenaed "Princes of Jewry" Bernard Buruch, Henry Morganthau, Rabbi Wise, Samuel Untermeyer, Mayor LaGuardia, James P. Warburg, Walter Lippmann and Justice Samuel Rosenman. Whereupon the American Jewish Committee  petitioned the court NOT to hear the case because the indictment violated the free speech guarantee of the Constitution.
"Jews are afraid of the truth," Edmondson wrote. "They know that a few grains of it will blow the lid off when publicized." (137)
Today more than ever, we are victims of brainwashing which equates defending our country, freedom, family and values with Nazi bigotry and genocide. We are under merciless hate-filled attack from the bankers and their minions, yet it is we who are  accused of "hatred" when we identify them.  It's a pathetic disingenuous ruse.  Remember the little boy who said the Emperor has no clothes? The Zionists put him in jail.
Read the rest of the article here:
http://www.henrymakow.com/robert_edmondson_testified_aga.html