Spiro Agnew
10. October, 1973
Spiro Agnew Knew About The Zionist Danger
From Dick Eastman
10-24-10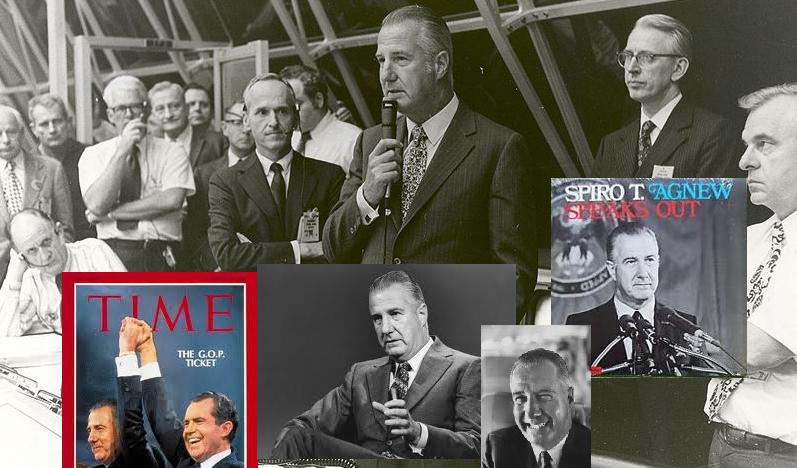 "A tiny and closed fraternity of privileged men, elected by no one, and enjoying a monopoly sanctioned and licensed by government."
"The American people should be made aware of the trend toward monopolization of the great public information vehicles and the concentration of more and more power over public opinion in fewer and fewer hands."
"Every time I criticize what I consider to be excesses or faults in the news business, I am accused of repression, and the leaders of various media professional groups wave the First Amendment as they denounce me. That happens to be my amendment, too. It guarantees my free speech as it does their freedom of the press. There is room for all of us ­ and for our divergent views ­ under the First Amendment."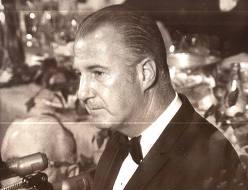 Agnew Was Outraged By 'Zionist Domination'
By Kevin Alfred Strom
Exclusive to National Vanguard
10-23-10
AN IMPORTANT LETTER from former US Vice President Spiro Agnew (pictured) to German-American writer and activist Hans Schmidt, written on September 24, 1982, reveals the extent to which Agnew opposed Zionist power. The letter is photographically reproduced below and reads:
Dear Mr. Schmidt: Thank you for sending me your letter of August 26th and the enclosures. Having been for a long time in the vanguard of those who protest the domination of this country by Zionists, I am always encouraged to see that others share my outrage.

Even in the face of these horrible actions by the arrogant state of Israel, the broad spectrum of American opinion leaders seem to cling to the fallacy that Jews, because of the so-called Holocaust, can do no wrong. The 70 years of indoctrination that began with the years that immediately followed the Balfour Declaration have brainwashed the western world, and Zionist control of our news media has kept the fields green for Israel.

The vituperation of organized Jewry is zealous to say the least. As one who has endured 10 years of well-organized attacks in the media and in the courts, I can attest to that. One can assume only that Israel is more important to these people than their own country.

I also like President Reagan, but he must develop a more positive attitude on this subject. Reagan must be told that the tail cannot continue to wag the dog. The American people are prepared to follow a strong leader who will refuse to protect a welfare state that insults its donor.

Kind regards.

Sincerely,

Spiro T. Agnew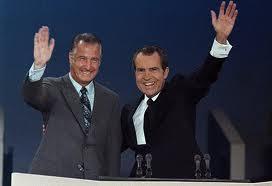 "A spirit of national masochism prevails, encouraged by an effete corps of impudent snobs who characterize themselves as intellectuals."
"An intellectual is a man who doesn't know how to park a bike."
"I didn't say I wouldn't go into ghetto areas. I've been in many of them and to some extent I would say this; if you've seen one city slum, you've seen them all. Poverty and crime have the same effect everwhere."



Agnew was born in Baltimore, Maryland.
Agnew attended Forest Park Senior High School in Baltimore, before enrolling in the Johns Hopkins University in 1937. He studied chemistry at Hopkins for three years, before joining the U.S. Army and serving in Europe during World War II. He was awarded the Bronze Star Medal for his service in France and Germany.
Before leaving for Europe, Agnew worked at an insurance company where he met Elinor Judefind, known as Judy. Agnew married her on May 27, 1942. They eventually had four children: Pamela, James Rand, Susan and Kimberly.
Upon his return from the war, Agnew transferred to the evening program at the University of Baltimore School of Law. He studied law at night, while working as a grocer and as an insurance salesman. In 1947, Agnew received his LL.B. (later amended to Juris Doctor) and moved to the suburbs to begin practicing law. He passed the Maryland bar exam in June 1949.
Agnew, raised as a Democrat, switched parties and became a Republican. During the 1950s.
He entered politics himself in 1957, upon his appointment to the Baltimore County Board of Zoning Appeals by Democratic Baltimore County Executive Michael J. Birmingham. In 1960, he made his first elective run for office as a candidate for Judge of the Circuit court, finishing last in a five-person contest.
Agnew ran for election as Baltimore County Executive in 1962, seeking office in a predominantly Democratic county that had seen no Republican elected to that position in the twentieth century, with only one (Roger B. Hayden) earning victory after he left.
Agnew backed and signed an ordinance outlawing discrimination in some public accommodations, among the first laws of this kind in the United States.
Agnew ran for the position of Governor of Maryland in 1966. In this overwhelmingly Democratic state, he was elected after the Democratic nominee, George P. Mahoney, a Baltimore paving contractor and perennial candidate running on an anti-integration platform. Many Democrats opposed to segregation then crossed party lines to give Agnew the governorship by 82,000 votes.
As governor, Agnew worked with the Democratic legislature to pass tax and judicial reforms, as well as tough anti-pollution laws. Projecting an image of racial moderation, Agnew signed the state's first open-housing laws and succeeded in getting the repeal of an anti-miscegenation law. However, during the riots that followed the assassination of Martin Luther King, Jr., in the spring of 1968, Agnew angered many African American leaders by lecturing them about their constituents in stating, "I call on you to publicly repudiate all black racists. This, so far, you have been unwilling to do."
Agnew's moderate image, immigrant background, and success in a traditionally Democratic state made him an attractive running mate for the 1968 Republican presidential nominee, Richard Nixon. In line with what would later be called Nixon's "Southern Strategy", Agnew was selected as a candidate because he was sufficiently from the South to attract Southern moderate voters, yet wasn't identified with the Deep South.
At the 1968 Republican National Convention, Agnew's nomination was supported in the West and Midwest within the Republican Party, and by Nixon himself. However, a small band of delegates started shouting "Spiro Who?" and tried to place "Rockefeller Republican" George W. Romney's name in nomination. In the end, Nixon's wishes prevailed, with Agnew receiving 1119 out of the 1317 votes cast.
Although considered something of a political joke at first – one Democratic television commercial featured hearty laughter as the camera panned to a TV with the words "Vice President Spiro Agnew?" on the screen – Agnew had the last laugh, as the Republican ticket carried 32 of the 50 states.
Agnew went from his first election as County Executive to Vice President in six years ­ one of the fastest rises in U.S. political history. His Vice Presidency was the highest-ranking United States political office ever reached by either a Greek American citizen or a Marylander.
Agnew soon found his role as the voice of the so-called "silent majority", characterized by scathing criticisms of political opponents, especially journalists. He attacked his adversaries with relish, hurling unusual, often alliterative epithets. By late 1969 he was ranking high on national "Most Admired Men" polls. He also inspired a fashion craze when one entrepreneur introduced Spiro Agnew watches (a take off on the popular Mickey Mouse watch); conservatives wore them to show their support for Agnew, while many liberals wore them to signify their mocking contempt.
Agnew was often characterized as Nixon's "hatchet man" when defending the administration on the Vietnam War.
He did however speak out publicly against the actions of the Ohio National Guard that led to the Kent State shootings in 1970, even describing their action as "murder". Agnew toned down his rhetoric and dropped most of the alliterations after the 1972 election, with a view to running for president himself in 1976.
Although Nixon initially liked and respected Agnew, as time went on he felt his vice-president lacked the intelligence or vision, particularly in foreign affairs, to sit in the Oval Office, and he began freezing Agnew out of the White House decision-making process. By some accounts, the notoriously thin-skinned President was also resentful that the self-confident Agnew was so popular with so many Americans.
By 1970, Agnew was limited to seeing the president only during cabinet meetings or in the occasional and brief one-on-one. Nevertheless, he became close friends with Frank Sinatra, Billy Graham and Bob Hope, and consorted with leaders around the globe. He also took in stride his own newfound fame, as his utterances often made newspaper front pages and were major stories on the evening network news broadcasts. Invitations for Agnew to give speeches across the country flooded into his office, and he became a top fundraiser for the Republican Party.
On October 10, 1973, Spiro Agnew became the second Vice President to resign the office. Unlike John C. Calhoun, who resigned to take a seat in the Senate, Agnew resigned and then pleaded no contest to criminal charges of tax evasion. Agnew was allowed to plead nolo contentre to a single charge that he had failed to report $29,500 of income received in 1967, with the condition that he resign the office of Vice President. On October 10, 1973, Spiro Agnew became the second Vice President to resign the office. Unlike John C. Calhoun, who resigned to take a seat in the Senate, Agnew resigned and then pleaded no contest to criminal charges of tax evasion.